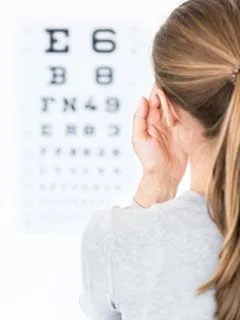 At SkyView EyeCare, Dr. Gordon Russell, Dr. Ian Kirste, Dr. Jed Lister and our entire optometry team are committed to providing advanced vision care in a professional and comfortable environment. As an optometrist in the Four Corners, our primary eye care service includes a complete eye exam that analyzes eye health and vision function. In addition to eye exams and vision testing, Dr. Russell and our team of optometry professionals provide testing for glaucoma, cataracts and macular degeneration. Our Farmington optometrists also offer contact lenses and pre- and post-operative care.
SkyView EyeCare offers Farmington, San Juan County, and the Four Corners several eye care services to meet their needs.
Contact Lenses
We have any prescription of both soft and hard contact lenses, including lenses for astigmatism. Choose from daily, weekly, biweekly, or monthly replacement schedules. We carry several top brands including Acuvue, Air Optix, Focus, PureVision, and more. We will fit the lenses to your individual eye size and shape.
Optometry
SkyView EyeCare has optometrists on staff to perform detailed eye exams. Whether you need a routine exam or to diagnose a problem, we will take care of your eyes. Regular exams prevent minor issues from becoming major problems. We offer detailed testing and thorough information about the health of your eyes.
Dry Eyes Diagnosis and Treatment
Many people experience dry, itchy eyes that restrict vision, are very uncomfortable, and interfere with daily activities. SkyView EyeCare Care will diagnose the cause of your dry eye symptoms and treat them with drops, oral medication, and recommended regimens to get rid of the problem.
We can solve any eye health issue from minor irritation to more serious conditions such as cataracts and glaucoma. You can trust your eyes to us.