About SkyView EyeCare
SkyView EyeCare in Farmington, NM has proudly been serving the Four Corners region since 2007. Our optometrists have the required skill set to address a wide range of eye conditions and vision correction needs. In addition to their knowledge, they maintain a level of professionalism and friendliness to make your experience a pleasant one.
SkyView EyeCare is proud to have two board certified optometrists, Dr. Gordon Russell and Dr. Ian Kirste, with extensive knowledge and experience to address eye and vision conditions. We're also excited to have a new optometrist join the SkyView family, Dr. Jed Lister, who started in August 2015.
The range of eye conditions we address include eye injuries, eye infections, glaucoma, dry eyes, pink eye, red eyes, and more. We also provide eye exams with contacts on site should you require them.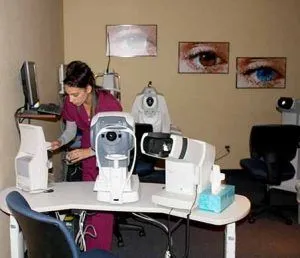 We welcome walk-in appointments and make every effort to see patients as quickly as possible. We accept most insurance, including OptumHealth, Medicare, Summit, HMA, EyeMed, Davis, and Medicaids from New Mexico, Arizona, Utah, and Colorado.
At SkyView EyeCare, you'll find that our customer service is what sets us apart. We treat all of our patients with respect and care. Our optometrists and friendly staff will work with you to find the perfect solution to your vision needs.
At SkyView EyeCare, each member of our vision care team is selected by Dr. Gordon Russell based upon his or her experience, professional demeanor, and dedication to providing personalized care to our optometry patients.
Our entire Farmington optometry staff is committed to ensuring the comfort and satisfaction of each and every patient. We will do our best to accommodate your busy schedule by finding appointment times that meet your needs. Our knowledgeable staff at SkyView EyeCare will work with you to help you understand your vision insurance coverage and provide financial alternatives to ensure you get the best vision care possible.
We know that you have a choice when it comes to Farmington optometry, so we strive to provide comprehensive eye exams, a great selection of glasses, and personalized care.

t